testimonials
Got a story to tell? Let us know, we love hearing back from our customers!
At the Clark County fair last year I told you the Molecat was Brilliant!!! I had told you I'd get one and have. The Molecat is perfect! Four this week,my only wish is I had seven Molecats for my 10 acres. I'm grateful, you are the man, Vern!!!
Vancouver, WA
Thanks from a happy mole hunter
It's easy to use and very safe, I'd recommend it for anyone. Thanks so much for a great product!
I can't wait to set it up again! Thank you, thank you, thank you!!!! No more hours of raking, baiting and clouds of dirt and dust when I mow our acreage.
I reset in another location and within 24 hours I had mole number 2. Another reset and 6 hours later-mole number 3.
I'm now a MOLECAT believer!!
I harvested this fine mole on my first try with my new Molecat.
Thanks Vern!
Good Morning,
I just wanted to send you a little thank you note. The Molecat works...just as advertised.
As you know I built a Rainbow Trout lake and it has a dam....Well it did not take long for the moles to find the lake too. I assure you a 1 1/2 " mole hole will wreak havoc with a lake...I have trapped the little devils using scissor traps, tunnel traps, pinch traps....even stood guard over hills for hours with a 12 gauge....all have had some success, but the traps are pushed around by the moles more than they catch them.
However, your Molecat is the best thing I have ever used. I set the trap, checked it once a day and bingo!! The mole I have been chasing for at least a year is now no more a threat to the lake.
I will be a bit less stressed and I feel confident that the Molecat will take care of any future mole issues (or any other burrowing nuisance) that threatens the integrity of the lake.

Thank you!
After only two discharges of the Molecat, my yard has been mound free for a month! So much more useful and easier to use than a clamp trap. I will recommend the Molecat to anyone needing to control moles!
We love our little Molecat! 4 hits in two days!
We received our Molecat and used it twice. Then we put it in another hole and in a couple of days we got another one too. We are so pleased with it. My wife saw a friend at the store and told her about the Molecat and gave her the website so they could see how it works.
Thank you it is a very good product.
Very Happy with the Molecatů Got my 1st mole within 2 days.. Nice folks as well!!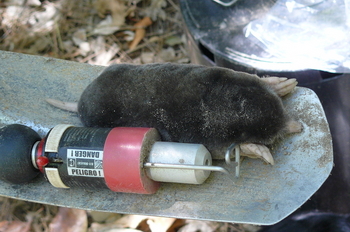 This is our second one this week... YES!!!
I am happy with the safety of the product and the fact you don't use poisons.