Annoyed by gopher damage? The destructive effects of gopher's underground activities on commercial agriculture, garden plots, and landscaping, is costly – and ugly. Gophers view your open space as free range homestead and if left alone a gopher town can easily spread to take over large sections of your property and may grow a population of hundreds.
Gopher is a common name for any of several small burrowing rodents – like pocket gophers, and ground squirrels. As a vegetarian the gopher likes peanut butter, as well as your potatoes, carrots, roots, lawn, and plants – which makes peanut butter the perfect bait to trap and then kill gophers.
Solve your pest problem today! Get a Molecat!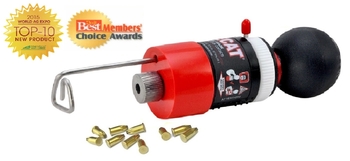 MOLECAT features include:
Do-it-yourself convenience, easy set-up, no destructive digging, it is reloadable and re-useable, and chemical-free.
Preparing armed unit for moles –
Place entire MOLECAT unit in a Scent-Free bag. Our scent-free bags prevent the odor of flashpowder and human scent when inserted into hole as unusual odors will discourage moles from revisiting the hole. Stir the Trigger end of MOLECAT in the loose dirt to help remove scent that may be on the bag.
After the unit has fired –
Most of the time you will not see the dead mole as the pressure expelled during the blast pushes the pest back into its tunnel system. Leaving the dead mole in the hole will help repel other moles from moving in.