Are snakes infuriating you? Ground-dwelling snakes ruin property as they make their underground nests or move into tunnels and burrows of other burrowing pests. Snakes are attracted to your property by other pests and vermin.
Although the majority of snake bites are from non-venomous snakes, all snake bites should be treated. All snakes are strictly carnivorous, eating small animals including lizards, other snakes, small mammals, birds, eggs, fish, snails or insects. Their mouths therefore hold any number of bacteria, especially if it had recently finished a meal.
Solve your pest problem today! Get a Molecat!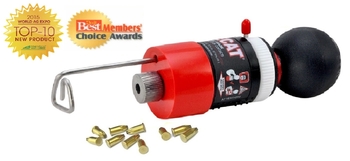 MOLECAT features include:
Do-it-yourself convenience, easy set-up, no destructive digging, it is reloadable and re-useable, and chemical-free.
Preparing armed unit for moles –
Place entire MOLECAT unit in a Scent-Free bag. Our scent-free bags prevent the odor of flashpowder and human scent when inserted into hole as unusual odors will discourage moles from revisiting the hole. Stir the Trigger end of MOLECAT in the loose dirt to help remove scent that may be on the bag.
After the unit has fired –
Most of the time you will not see the dead mole as the pressure expelled during the blast pushes the pest back into its tunnel system. Leaving the dead mole in the hole will help repel other moles from moving in.